Mobile Repair Service
Heavy Equipment Mobile Repair
ABLE's mobile repair units are a repair shop on wheels providing mobile repair services for every piece of equipment we rent. On the rare occasion your rental equipment does need work-site attention, ABLE Equipment Rental will dispatch one of its mobile repair trucks for immediate assistance. We operate a fleet of mobile repair trucks fully equipped with their own tools, supplies and parts inventory. Along with these trucks, our team of thoroughly trained mechanics have the ability to fix every piece of equipment we rent. Our mechanics are supplied with analyzers and laptops that have programs to diagnose the repair needed to get your rental equipment back up and running quickly, eliminating additional labor and repair costs. And unlike other rental companies we don't swap disabled machines with a replacement unit, which can cost you anywhere from hours to days of down-time.
Preventative Maintenance and Mobile Repair Services for Customer Equipment
At ABLE we can dispatch our mobile repair units to your job site or facility to perform Preventative Maintenance (PM) services on your equipment, such as aerial lifts (boom lifts and scissor lifts), forklifts, compressors, generators and earth movers. This valuable service helps you maintain your equipment to keep it and you up and running for maximum productivity.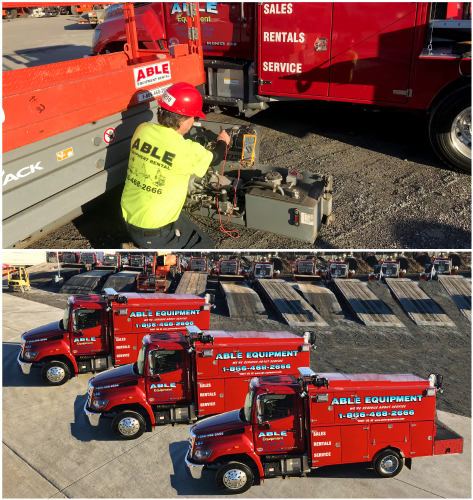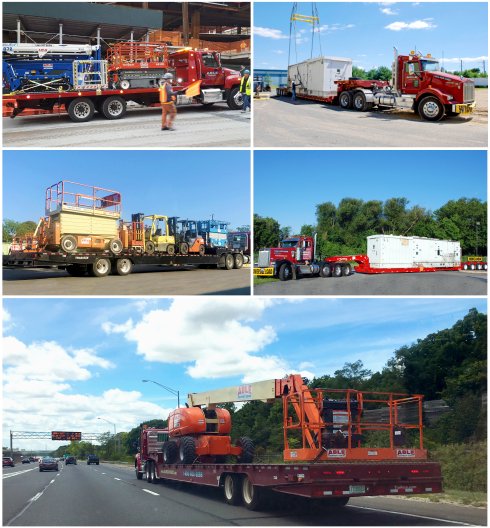 Trucking, Oversized & Heavy-Haul Services
ABLE Equipment Rental is more than just a rental company. We provide oversize and heavy-haul trucking services as well. We have an extensive fleet of tractors and flatbed, step deck, double drop, extendable, modular and perimeter beam trailers – to 100 ton capacities! Our experienced drivers and our expedited permitting department will get you moved anywhere in the Tri-State Region and the U.S. Northeast Corridor.
The Machinery, Plant, Equipment, Materials and Wide-Load Transportation Specialists!
Our oversize and heavy-haul trucking services provide you with on-time transportation of your equipment, machinery, construction modules, materials or any other oversized, bulky and heavy objects. That means that no matter how big the equipment is, our oversize and heavy-haul trucking capabilities can transport it where and when you need it. ABLE will move your equipment or materials to or from your factory or plant, staging area or job site inclusive of fabricated steel structures, electrical switch gear, and mechanical equipment. In addition, we can arrange for storage and warehousing, staging areas, moving plans, on and off loading services (including gantry, crane, assembly, disassembly, rigging and labor options), expedited permitting and certified vehicle escorts as needed.
Ready When You Are
At ABLE we have the equipment you need when you need it. For information on our complete fleet of equipment rentals, as well as our oversize and heavy-haul trucking services, call us at (866) 468-2666 or contact us. Our sales team is ready and ABLE to get you the equipment and services you need.
24/7 emergency services available!
Rigging Services ABLE Rigging Contractors
ABLE Rigging Contractors is comprised of rigging service professionals dedicated to the safety and on time record of completing specialized rigging projects. Our licensed Master Riggers are highly experienced and excel in turn-key heavy lift and moving solutions. Our rigging services team handles documentation, planning, coordination with on site trades and execution. This includes value engineering and design build services that ensure fair pricing and on time service. ABLE Rigging Contractors is a specialized transport and storage services company that provides the following:
Heavy Lift and Industrial Rigging Solutions
Electrical Contractor Services, Generators and Related Equipment
Mechanical/HVAC Contractor Services with Related Equipment
Elevator Shaft Rigging
Derrick Solutions
Millwright Contract Trades
Mission Critical/Data Center Contract Trades
Third Party Logistics and Supply Chain Channel Services
Oversized Load Transport and Escorts Services
Permits, Insurance Documents and All Building Requirements
When it comes to rigging services, experience counts. Turn to ABLE Rigging Contractors to get the job done right.